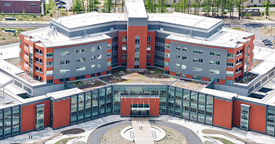 Many know the U.S. Army Corps of Engineers "the Corps" for their long history of extensive engineering and construction projects dating back to 1775 when George Washington used engineers throughout the American Revolution to support the war effort.  Today, the Corps owns and operates more than 600 dams, maintains 12,000 miles of commercial inland navigation channels, 926 harbors, operates 24 percent of the U.S. hydropower capacity, and provides technical and construction support to more than 100 countries.
With all of this important responsibility, does the Corps have the capability and bandwidth to support anything else? Absolutely! The division of the Corps that Trofholz supports is through the U.S. Army Engineering and Support Center. This group of the Corps has industry experts that focus on Electronic Security Systems (ESS) and provides contracting, oversight, and technical capabilities for their customers. The Corps' ESS experts are open to all government agencies at any location worldwide and the work is typically completed by a contractor, like Trofholz, with oversight from a Corps project manager and project engineer.
Trofholz has a long history supporting the Corps with security projects in California, Washington, Louisiana, and hundreds of facilities in between. ESS projects range from simple and rudimentary to complex and advanced.  ESS installations typically involve electronic access control systems which provide restricted entry and exit via programmed card readers. Installing CCTV for indoor/outdoor visual monitoring and recording of the premises. Alarms systems with motion sensors that alert guards of motion in a restricted area and alarms if a door or window is forced open. And, advanced security analytics to bring attention to potential threats.
To enable these systems, we install hundreds and often thousands of feet of conduit, pull appropriate wires through the conduit to reach the devices at the doors and camera locations, and tie the other end of the wires into the head end, or brain of the system. We abide by electrical code, fire code, Corps ESS specifications, and other applicable rules and regulations to ensure the systems are properly installed and function as intended.
ESS projects typically start and finish within months, while others may take years to complete, and each project may require anywhere from 2-6 installation technicians to accomplish the work. We conduct a site survey to review the infrastructure, existing conditions, and job requirements. From there, we develop a plan, assemble a quote based on anticipated labor, equipment, and materials. Upon project award, we complete detailed designs that serve as the official blueprint and foundation for the installation. Our projects spread across the United States requiring significant travel. We even had a single project with 150 different locations that spanned most of the United States. For this project alone, our technicians logged enough miles to circumnavigate the earth 1.5 times! There are always challenges that require creative and experienced solutions and we overcome them with effective planning, risk identification and mitigation, and routine quality control throughout the project.
We're looking forward to continuing our effective partnership with the Corps for years to come!
Share