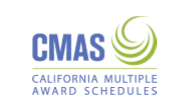 Are you a California City, Agency, County, or Department looking to buy products or services?
Did you know you can streamline your purchasing by using one of the California Multiple Award Schedules (CMAS)?
California Multiple Award Schedules offer a wide variety of commodity and information technology products at fair, reasonable, and competitive prices. They are based on competitive, evaluated GSA Schedule contracts. CMAS contracts are available to State Agencies, any city, county, or district. They also support California State University and University of California Systems, K-12 public schools and community colleges. An IDIQ administered by the California Department of General Services, CMAS contracts have no minimum sales requirements.
Trofholz just received a CMAS award for Samsung Opto-Electronics America, Inc. (Hanwha Techwin) products (CMAS 3-18-0078A). As a leading manufacturer in the security industry, Hanwha offers video surveillance products including IP cameras, storage devices and management software. Their products offer world-class optical design, manufacturing, and image processing. By offering end-to-end security solutions, Hanwha has global success across a wide range of industries. This work includes retail, transportation, education, banking, healthcare, hospitality, and airports. In addition, Hanwha recently introduced a new Wisenet product line. This line of innovative security products includes 12MP cameras, intelligent video analytics and H.265 support.
Trofholz CMAS Contracts
In addition to our newest contract, we hold two other CMAS IDIQs. As a contractor under CMAS 3-14-70-2236D we provide:
Acquisition Support
Independent Validation and Verification
Programming
System Analysis
Website Design
System Development
Project Management
Quality Assurance
Requirement Analysis
System Design
Software Development
System Management
All based on our own GSA Schedule 70 contract. Combining our services and product availability ensures you have the tools, support, and technology you need to secure your business.
Finally, under our third contract (CMAS 3-17-70-2236E) we offer Dell hardware, Juniper Hardware and software, and maintenance for all offered products. Dell Technologies helps customers keep pace with digital innovation to accelerate their own success. Juniper Networks products deliver automated, scalable, and secure networks.
CMAS is an invaluable and powerful procurement tool for government entities in the state of California. The CA DGS processes more than $200 million in sales each year. It streamlines the buying process, so you can focus on your mission, and leave security to the experts. Using this streamlined buying process is an optimal way to balance your organizations need for efficiency, security, and fiscal responsibility.
For more information, contact us today!
Share