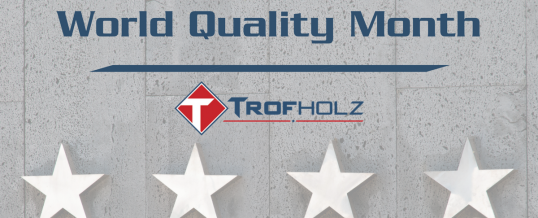 Since 2010, every November we focus on awareness of the advancements quality has made to society and its contributions to economies, communities, and institutions. World Quality Month is a celebration of quality and its impact on businesses and people throughout the world.
Trofholz Technologies is dedicated to quality. It is central to who we are and how we operate. As a part of our QCCI creed, quality is woven throughout all of the products and services that we offer. Each must support our client's needs and protect their assets while meeting our high-quality standards.
We don't just highlight quality as part of our core values – we adhere to the highest standards as well. For this reason, we were one of the first companies to be certified to the recently updated ISO 9001:2015 standard earlier this year. Above all, the updated standard advances risk management planning, production consistency, and enhancing customer satisfaction.
Certification to the ISO 9001:2015 standard is an additional third-party verification that we are upholding the quality management principles including a strong customer focus, the motivation and implication of top management, the process approach and continual improvement. We utilize our ISO Certified Quality Management System to ensure that we are always meeting the customer's requirements while exceeding their expectations!
Improving the quality of an operation, organization or community has a far-reaching impact on a number of important factors:
Customer Satisfaction:
Our customer's satisfaction is always our top priority and is key to quality control.
Customer satisfaction strengthens a company's reputation in the age of social media and technology. Maintaining a quality reputation in services and products allow you to generate a higher standing in today's competitive market.
Profitability:
Poor quality products and services can increase operating costs. Without quality controls or standards, companies deal with issues such as replacement of product, analysis of defects and potential legal repercussions. Increasing the quality of your procedures and reducing waste in an organization leads to increased profitability, reduced costs, and ensures satisfaction for customers and employees.
Responsibility:
A strong sense of corporate care and responsibility can be important for ensuring strong quality, especially within the organization or company. Aspects include a strong vision and strategic thinking; structure and accountability throughout an organization; organized systems of management; and quality as a core concept throughout the organization.
Overall, World Quality Month helps businesses and organizations draw attention to how aspects of quality can improve their operations. Trofholz maintains the ISO 9001:2015 standard of quality because of the marked improvement it brings to our company and customers.
To learn more about Trofholz Technologies quality services and products, read more about what we do.
Share