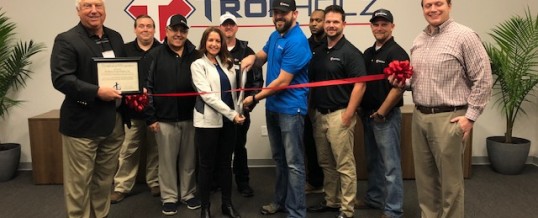 New Southeastern Regional Office Opens!
Trofholz Technologies is a Woman-Owned; Veteran-Owned small business located in Rocklin, California. In business since 2002, Trofholz has developed a solid performance reputation securing critical infrastructures. They have successfully completed multiple large, enterprise systems for federal clients across the nation and overseas. Just recently, Trofholz Technologies opened a Southeastern Regional Office right here in Lexington, SC.
Trofholz Technologies specializes in physical security, information security and related IT services. "We complete the full life-cycle, first design, then installation, integration and finally follow-on support for our clients," shares CEO Yvonne Pire. "We believe it is critical to truly listen to our clients and understand their needs so they get systems that work for them."
Commitment to Quality
Providing quality service and doing the job right the first time is extremely important to the folks at Trofholz. Above all, each employee is committed to meeting all regulatory compliance and mission ready requirements to protect critical infrastructure assets. "The most gratifying aspect of our business is when we go through the life cycle of a project and at the end, the client wants to keep us on board to either support the work we've done or asks us to do another project," Pire adds.
Opening the Lexington office has been a labor of love for the Trofholz team. They all pitched in to renovate their new space. As a result, they couldn't be more excited to be a part of the Lexington community! "We chose Lexington for our new Southeastern Regional Office because of the exemplary schools, caring community, safe and affordable neighborhoods, and of course, beautiful Lake Murray. In addition, Lexington is an amazing city filled with good people. People in Lexington are looking for a company with strong core values. Lexington is also a great city to attract new employees to work and live in! " Pire shares.
About Trofholz:
Trofholz Technologies celebrated their chamber membership with a ribbon cutting ceremony on January 18th. Their Lexington office is located at 151 Business Park Drive. For more information about Trofholz Technologies and the work that they do, visit www.trofholz.com.
Connor Watkins, Greater Lexington Chamber of Commerce
http://www.lexingtonsc.org/chamber-news/female-veteran-owned-business-plants-flag-in-lexington 
Share