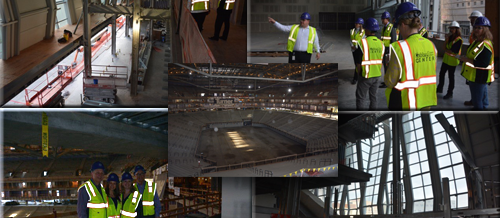 Trofholz is "Sacramento Proud" to be a part of building the new Golden 1 Sports and Entertainment Center! Being a Sacramento area company, it is exciting to be one of the Local Business Enterprises (LBEs) creating what will be a new landmark. Trofholz is currently installing video surveillance and access control systems for the new, state of the art Golden 1 Center. Consequently, the magnitude of the $507 million arena and it's forward thinking technology will have a major impact on Sacramento's economy. Because of this impact, being part of implementing the electronic security system for this world-class technology platform is incredibly exciting for Trofholz.
21st Century Colosseum
Golden 1 Center has been referred to as the 21st Century Colosseum. Significantly, it will be the first sporting venue in the world capable of securing 100 percent of its power from the sun. A radical cooling system, powered by Sacramento's "Delta Breeze" and displacement ventilation strategies, will redefine clean air quality. The Internet connection at Golden 1 Center will be 17,000 times faster than the average home Internet connection. Studies estimate that the Golden 1 Center alone will attract 1.6 million new visitors to downtown Sacramento each year. These visitors are a major contributor to the $11.5B in estimated economic impact from the Center over the next 35 years.
The Golden 1 Center Team
Johnson Controls is the official building technologies partner of the Sacramento Kings. Johnson Controls will integrate the building automation systems, as well as Fire and Life Safety Systems. The security system at the new arena fully integrates into the building controls system. As a subcontractor to Johnson Controls, Trofholz is proud to be a part of this team. Together, we ensure the electronic security system brings Sacramento a sports venue that is operationally smarter, safer and more sustainable. Above all, these aspects combine to enhance the fan experience. Trofholz has been a long time season ticket holder of the Sacramento Kings. We look forward to enjoying this new world-class entertainment and sports venue with the Sacramento fans!
Want Trofholz on your team? Contact us today!
Share