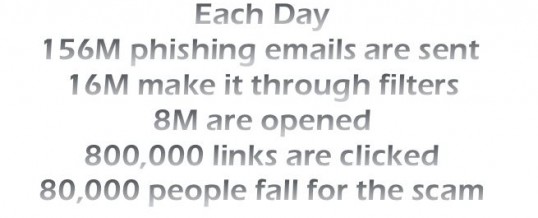 Just as fishermen use false bait to catch their prey, criminals "fish" for information using similar tactics. Be sure you guard against Phishing! Don't fall victim to the allure of fake chum. For once you bite, there is no "catch and release" under these circumstances.
What is Phishing?
Phishing is one of the most common cyber-crimes, claiming 80,000 victims every day. Even with solid network and information security, it can be easy for individuals to fall victim to phishing scams. The best way to guard against these scams is to educate yourself and prepare to act when they occur.
Phishing is defrauding an online account holder of information by posing as a legitimate company. The most common form of phishing happens through email. Phishing scams have "bad guys" pretend to be a legitimate business or organization and send emails to victims to try to get personal information. Usually the email has a link which looks identical to the actual website and requires you to login. Other common scams have a website disguised as a service or a link. Phishing can also happen by phone, when a criminal will call, pretending to be  a business and asking you to provide information via telephone. Even texts are used to collect information.
These scams work because they feed off of fear and the victim's lack of knowledge. The scammers may tell victim they are going to lose your account, or that suspicious activity was discovered. They may also say that you will or currently do owe money in order to coax more information out of an individual. Usually victims will not know about phishing scams or how they work. When that happens, they can be easily convinced to share their information.
Guard Against Phishing
The best way to guard against phishing is to be vigilant. Don't open attachments or links from unknown senders. Relying on spam filters doesn't always work. Take precautionary measures! First, check the URLs hyperlink address before opening or sharing information. Then, if you really do need to communicate personal information, use the phone or a secure website. For example, if Bank of America emails you asking for personal information, don't just respond. Instead, pick up the phone and call them or go to the secure website. There, you can confidently share your personal information.
Tricks of the Trade
Phishing e-mails often are not professional communications. If you see:
Message containing misspelled words
Message asking personal information
Messages that seem too good to be true
Message with unrealistic threats
From a form of government agency
Something just doesn't look right
It's probably a scam.
Scammers are always looking for new ways to find victims, the best action you can take to guard against phishing is to educate yourself, do some research when something seems off, and ask questions if you are unsure. Don't give your personal information to anyone until you know who they are, and why they  need it!
Need to support your employees? Contact us!
Share