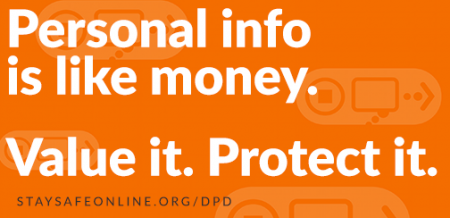 Data Privacy Day is an international effort, held annually on Jan. 28, to empower individuals and businesses to respect privacy, safeguard data and enable trust. Digital devices provide great convenience to our lives and by 2020, more than 30.7 billion devices will be connected to the internet. As individuals, we are continuously generating data about ourselves and others and sharing our information through our devices and our online presence.
Here's what you can do now to manage your privacy within five minutes:
Own your online presence: Set your privacy and security settings to your comfort level for information sharing. Do not save usernames and passwords for your logins. This will prevent any unauthorized access from gaining more information.
Lock down your login: Choose one account and turn on the strongest authentication tools available, such as biometrics, security keys or a unique one-time code through an app on your mobile device. Your usernames and passwords are not enough to protect key accounts like email, banking and social media.
Keep a clean machine: Update your security software, web browser and operating system to have the best defense against viruses, malware and other online threats.
Remember to share with care:
Be aware of what's being shared: Be aware that when you share a post, picture or video online, you may also be revealing information about others. Be thoughtful when and how you share information about others. What you post can last a lifetime.
Post only about others as you have them post about you: The golden rule applies online as well.
Think before you act: Be wary of communications that implore you to act immediately, offer something that sounds too good to be true or ask for personal information.
Data Privacy Day began in the United States and Canada in January 2008 as an extension of the Data Protection Day celebration in Europe. Data Protection Day commemorates the Jan. 28, 1981, signing of Convention 108, the first legally binding international treaty dealing with privacy and data protection.
The National Cyber Security Alliance (NCSA), a nonprofit, public-private partnership dedicated to promoting a safer, more secure and more trusted Internet, spearheads Data Privacy Day, their signature event in a greater privacy awareness and education effort. Year-round, NCSA educates consumers on how they can own their online presence and shows organizations how privacy is good for business.
Information provided by staysafeonline.org, powered by the National Cyber Security Alliance.
Share