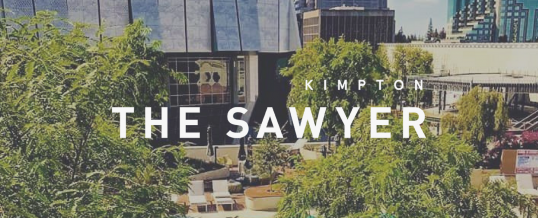 Trofholz is pleased to be a part of the new activity and urban development in the heart of downtown. A new downtown Sacramento destination, the Kimpton Sawyer Hotel is now open for guests. Opening directly on to the Downtown Commons with a third floor roof deck pool, the Kimpton has it all. Above all, it offers luxurious features and convenient amenities, so guests enjoy the best Sacramento has to offer.
Our team worked with Swinerton and Johnson Control to provide top-of-the-line security features for the Kimpton Sawyer Hotel. Our team installed more than 70 CCTV cameras for monitoring essential areas. In addition, we installed critical safety features throughout the hotel and garage. Our team installed dozens of unique alarm points and ACS card readers to protect the hotel.
Being a part of this exciting downtown revival project is deeply rewarding for our Sacramento area company. California's capital has a proud history and is finally reigniting  its pioneering spirit. With growth in tech, culture, and prominence, Sacramento is the place to be.  From the Golden 1 Center, to the Downtown Commons, to the Kimpton Hotel, we love watching our community come to life!
The Kimpton Sawyer seamlessly connects the Golden 1 Center and Downtown Commons. This entertainment haven is also close to great shopping, art galleries, renowned restaurants, and farmer's markets.
The Kimpton Sawyer Hotel
Learn more about this Sacramento gem and book your next 'staycation' on their website.
Work with Trofholz
Want to work with us on another Sacramento revolution? Contact us today!
Share