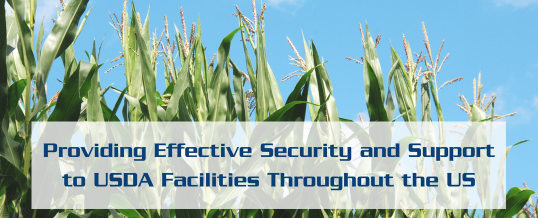 The USDA Animal and Plant Health Inspection Service (APHIS) works to protect the health and value of American agriculture and natural resources. APHIS is a multi-faceted government agency with hundreds of locations. Each location has a specific role providing research, regulation, or education and outreach. USDA facilities include agricultural installations, research facilities, nuclear facilities, applied science sites, and biosafety laboratories. To help them secure each facility, Trofholz provides CCTV, ACS, and IDS solutions at multiple USDA APHIS locations around the United States.
The Project
The Trofholz team works with the USDA APHIS locations to design physical security systems that support their efforts. Our projects include access control systems (ACS), intrusion detection systems (IDS), and video surveillance systems (CCTV). Trofholz assesses each site, and then creates a security plan. Our team installs any new equipment, repairs existing equipment, trains USDA employees, and helps implement the USDA's electronic physical security systems. This includes recommending and installing equipment, components, materials and providing labor to create complete CCTV, ACS, and IDS solutions to protect APHIS facilities.
The Solution
We provide APHIS with electronic and physical security services and project support for sites across the United States. At most sites, we conduct a site survey to understand the security challenges and existing security posture. With this information, we create a plan to upgrade the existing security with CCTV, ACS, and IDS solutions. This can include implementing strategic policy recommendations, installing new equipment, as well as briefings and knowledge transfers. We establish network functionality at each location so the ESS communicates with the USDA's Enterprise Physical Access Control System (EPACS) centrally located servers.
Our team works to find efficiencies and cost-savings in existing systems. For example, we provided alternative system designs and demonstrations that can eliminate yearly software licensing that currently boasts a hefty price tag for the USDA. The USDA, like many organizations struggles with network latency. With hundreds of facilities that communicate across their business network to the central EPACS, the network is often congested. Trofholz has provided initial analysis and recommendations for connection and communication enhancements to increase productivity.
The Results
By identifying risks and vulnerabilities, and mitigating them with CCTV, ACS and IDS solutions, we prevent breaches at critical USDA facilities. This creates a safe and secure environment for USDA personnel and the people they serve.
Want to learn how Trofholz Technologies can take this experience and build a comprehensive security system for your business? Contact our team today.
Share