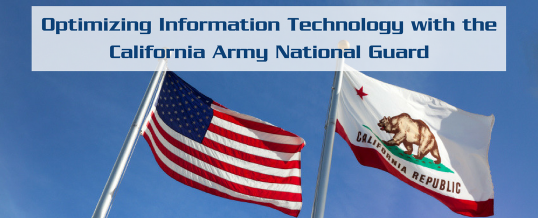 The California Army National Guard (CAARNG) works with Trofholz Technologies to ensure their information technology solutions are optimized, well-maintained and supported in real time by our team of certified technicians.
The Project
In 2018, Trofholz won its fourth contract to provide IT support in a centralized environment to the California Army National Guard. Our team has provided ongoing support to this critical service branch for more than 10 years. Trofholz provides Tier III Automation to 5,000 Full-Time Members, and 15,000 Part-Time Members stationed at 106 Facilities within California and deployed Overseas. Our team ensures that the California Army National Guard has the tools it needs to maintain mission readiness, support training and continue its logistic tasks.
The Solution
To optimize the California Army National Guard's IT Security and Support, Trofholz provides comprehensive support and management; we coordinate networking, routers, servers, and IT storage systems. Our technicians optimize automation monitor applications and programs, making sure networks are properly configured and managed. Our Tier III Support in Sacramento and San Luis Obispo provides:
System and Network Administration, Configuration and Maintenance

Troubleshoots & Resolves Incidents Related to Network Routers, Switches, Storage Systems, and Servers

Installs, Configures, Maintains & Monitors Equipment such as Routers, Switches, and Firewall

Manages systems using Monitoring Applications Including SolarWinds, Orion, NetQos, and More
Trofholz technicians track, analyze, and report on IT status, while providing real time support for National Guard teams. They design, configure, troubleshoot, monitor, and optimize enterprise network information systems. This includes physical, virtual and database servers, along with network storage. We ensure high-availability, while recommending and implementing new solutions to optimize and improve network performance and network delivered applications. Our dedicated staff configures and updates the Guard's network devices while maintaining port-level Access control throughout the enterprise. We optimize the NAC/ISE Infrastructure including Schemes for DOD and Non-DOD Guest Access. Our team responds to network outages, and backs up and restores systems. These tasks ensure the CAARNG organization has mission critical resources and technology when they need them.  
We analyze SCCM and other data to inventory the CAARNG computer hardware and software. We use this data to develop information for strategic level lifecycle replacement decisions by Government IT managers. This lets the Government plan for IT replacement in a timely and efficient manner. At the CAARNG, our team tracks, analyzes and reports on the status of all IT assets as part of the IT Lifecycle Management program, and manages all software licensing. Using this information, we forecast upcoming requirements for the government, and provide cost savings by recommending the turn-in of unneeded licenses. Tools like the LANDesk Service Desk and Asset Lifecycle Manager (ALM) allow us to perform these tasks efficiently and successfully. In addition, our unique experience with Microsoft Internet Security and Acceleration (ISA) servers allows Trofholz to provide comprehensive IT security. Our IT security services at CAARNG configures and operates the ISA Server, Firewall and Proxy, implementing optimization measures for Enterprise Web Performance and ISA Caching. These experts manage DoD SmartCard Authentication enforcement of published web content from ISA Arrays while optimizing WebSense web filtering infrastructure, troubleshooting, implementing quotas, and tracking and reporting Enterprise web use.
Results
These tools and support features ensure the CAARNG teams have a centralized support environment. Trofholz utilizes our flexibility in IT support to provide surge capacity so we are ready to support the Guard in its missions in the state and around the globe. In an environment with constant mobility and adaptability, the IT network is the backbone of communication and coordination.  The IT support and security Trofholz Technologies provides directly supports California Army National Guard mission readiness.
Have questions about our process and how we can assist your IT teams? Contact Trofholz today.
Share