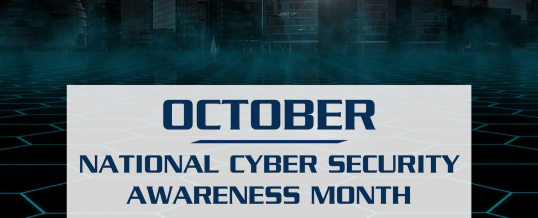 Every year, the Department of Homeland Security has a campaign to raise awareness about the significance of cybersecurity. The essential systems that support our daily lives – such as financial institutions, electricity, water resources and transportation – are all dependent upon the Internet. Building resilience in critical infrastructure is vital to our local and national security.
Creating a culture of cybersecurity is also critical for all organizations ‒ not just government agencies. Cybersecurity is a shared responsibility when personal information is at risk for large and small businesses, academic institutions, and nonprofit organizations.
From the entry-level assistant to the Board of Directors, it is everyone's responsibility in an organization to maintain the safety of a company's network. What can you do to protect your business and bring awareness to the importance of cybersecurity? Contact our team to start! For 15 years, Trofholz Technologies has specialized in providing information security for government and military facilities, demonstrating our experience with the strict guidelines and national standards that are required. We provide the same level of cybersecurity service to our commercial customers as we do our Department of Defense and Department of Homeland Security customers.
We understand the importance of protecting the underlying infrastructure from both physical and cyber threats. Cyberspace is the new generation of war that we must defend against. Cybersecurity, also known as IT Security, is a subcomponent to Information Security in which we protect hardware, software, and information on them. With the growth of the Internet of Things (IoT), this effort has expanded past the privacy of the internet on private data networks and into Bluetooth, Wi-Fi, and other related wireless networks. Each must be assessed along with a client's unique needs to build a quality system that will protect your essential information and assets.
There are many other resources businesses can take advantage of on the DHS Cyber Security Awareness Month page.
To learn more about our Information Security offerings, click here.  Trofholz Technologies is dedicated to utilizing our experience to benefit organizations large and small. Contact our team today to discuss your organization's security needs.
Share